Sejarah Breastfeed kakak.

Alhamdulillah seblom d
eliver terjumpa sebuah website
SusuIbu
yang byk sgt memberi info dan membantu dalam perihal breastfeeding ni. Hanya info dari sini saja dicedok sepenuhnya
Berbekalkan ilmu di sini, mission to breastfeed kakak dimulakan dgn membeli a good & recommended breastpump. Inilah yg telah terlipih sbg pemenang pada masa itu:-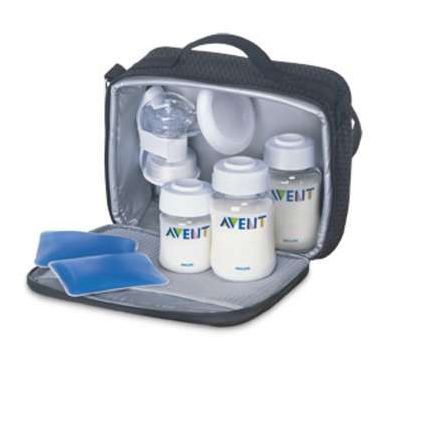 Retail : RM389.90
Bought at RM311 (on sale) at Parkson Subang Parade
Pada masa itu di ofis tiada peti sejuk, so everyday after each session susu yang telah diperah akan dimasukkan ke dalam ini
Setiap hari juga akan pi ke kedai mamak kat bawah blok utk membeli ice cube supaya susu senantiasa sejuk. Memang mamak kat kedai tu dah tau muka ni akan mai hari2 beli ais, kenkadang bawak ja bekas tu soh dia masukkan, tak pyh bazir plastik. Sekali beli RM0.20
Even dah bekalkan hasil perahan ke rumah baby sitter still tak cukup and perlu juga di top-up dgn formula. At least ada juga bekalan setiap hari EBM. Pada masa tu kak di top-up dgn formula ini.
EBM dibekalkan hanya setakat kakak 11 bulan. Slps tu kakak akan minum formula di siang hari & susu ibu di mlm hari & sepanjang hari cuti.
Kakak diputuskan susu ibu semasa kakak berumur 2 thn 3 bln (+-)
Alhamdulillah at least berjaya juga breastfeed kakak sampai setakat tu for 1st time mother.
Mission to Breastfeed Adik
Insyaallah utk adik kali ni nak fully breastfeed sampai 2 thn. Kalau blh lebih lagi Alhamdulillah.
Masa kakak dulu pun Alhamdulillah berjaya breastfeed but not fully. Apa-apa pun kena setkan target step by step. As for now target is for 6 month supaya tak terlalu tertekan. Bila dah achieve 1st step, target dilanjutkan ke 12 bulan, hingga seterusnya. InsyaAllah.
Senjata yg lama masih boleh digunapakai. Walaubagaimanapun, semangat untuk menjayakan misi telah diupgradekan. Antara senjata-senjata tambahan yg telah disediakan :-

Ya Allah tuhanku yg maha pemurah, kuat dan kentalkanlah semangatku untuk memberikan yang terbaik buat anakku dari limpah dan kurnia rahmatmu. Murahkanlah rezeki anakku.
Masa berpantang senjata ini sedikit sebanyak telah membantu dalam menangani masalah sore/crack nipple. Tatkala putingku sakit, senjata ini akan digunakan untuk membantu dalam merealisasikan mission, Alhamdulillah. Walaupn akan diketahui maybe bakal menghadapi Adik berhadapan dengan "Nipple confusing", drpd digantikan dgn formula, inilah jalan terbaik yg dpt difikirkan.
Ini juga dpt membantu untuk mempercepatkan penyembuhan sore/crack nipple. Terima kasih kepada Dr. Annuar Husaini gynae semasa melahirkan kakak yg memberikan solution utk menghadapi masalah ini. Syukur Alhamdulillah.