Seharian meng'google' pasal flower girl dress. Merelakan diri menolong moksha yg nak jadikan baby Qaisara as a flower girls. Mesti comel sgt-sgt dia nanti kan. Tak sabarnya nk tgk. Dalam misi pencarian terjumpalah beberapa perkara yang menarik dan baru tau. Tutu skirts and pettiskirts. Kedua-duanya adalah skirt kembang yg verry cute cuma bezanya tutu skirt made of kain net. Peetskirt plak made of chiffon. Sooooo cute, tak tahan sgt tgk. Kalaulah si Umar tu pompuan, rasanya memang terjebak jugak nak beli nih. Tapi kalau dah beli nanti ntah la nk pakai masa bila melainkan event mcm kenduri dan birthday party kan. Tapi memang tak tahan sgt, serius so cute!!!
Pettiskirt
Tutu skirt
cute gila kan, tgk lah budak ni dengan kamki montoknya tu, mesti nanti jalan terkedek-kedek pastu jatuh atas lantai terus skirt tu kembang atas lantai..geramnya!!!!
So adorable...bila pusing mesti skirt tu kembang dan beralun-alun...ahhhh aku sudah jatuh cinta.
Nak ke kakak Uzma pakai macam ni? Nak pegi mana? Takkan jalan-jala nak pakai macam ni? Nak sambut birthday nanti Uzma dah cakap dia nak celebrate kat tadika. Tadika Islam OK. Huhuhu...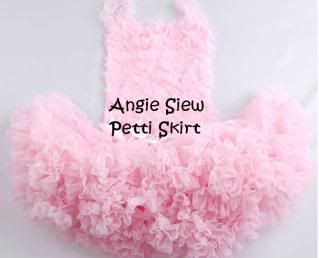 Mesti Qaisara is the most super cute baby on that day dengan baju ni. Tak sabarnya nak tengok.
Tumpang seronok dengan kecomelan Qaisara, adorable's moksha little girl. Mak orang lain plak yang terlebih...